Affinity Oval Coffee Table
Our Affinity Oval Coffee Table has a flawless finish and pristine storage space for all of your outdoor essentials. Maximize your relaxation time with our easy screw-on assembly system, just twist the two pieces together and instantly have a place for your decorations, food, or beverages. The Oval Coffee Table is designed for any outdoor space and also works great in up to 14 inches of water for in-pool use.
Perfect for residential or commercial settings
Can be used in-pool in up to 14" of water
Withstands outdoor environment without swelling, splintering, fading, or warping
Crafted of a UV16 rated resin, color stabilized for up to 16,000 hours of direct sunlight
Optional threaded plug system adds weight for in-water or anchored applications
Products shall be free from material defects, and shall not splinter, crack, chip, peel, or rot for two (2) years from the date of purchase for both commercial and residential use.
Always use a soft bristle brush or cloth when cleaning. 

For routine cleaning, just use water. 

For a deeper clean, remove from the pool and use a mild household cleaner and eraser sponge.
Ships within 3-4 weeks:
White, Granite Gray, Sandstone, Cloud, Light Blue
Ships within 4-5 weeks:
Dark Blue, Lime Green, Dark Green, Purple, Tan, Teal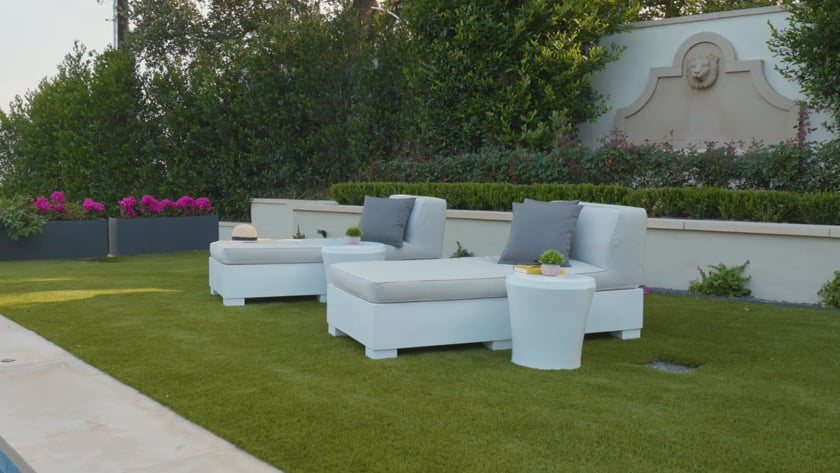 Our Affinity Collection features a selection of outdoor furniture focused on geometric design and contemporary curvature. All products are designed for use on the deck, patio, or any outdoor space and also work great in the pool. With a UV16 rating, this ergonomic collection lasts up to 16,000 hours in direct sunlight. Available in 13 fashionable colors, the Affinity Collection is made of low-density polyethylene that withstands the sun, wind, water, and elements of any outdoor environment.
Reviews