Luxury In Pool Lounge Chair
The Signature Chaise is the original eye-catching Ledge Lounger design seen on pool ledges around the world. This in pool chaise lounge chair provides a comfortably contoured spot to relax on your ledge in style. Designed to perform best in shallow sun shelf areas with a water depth of 0-9 inches, this unique  in pool lounge chair will transform your tanning ledge into your new favorite place to soak up the sun.
Designed for 0-9 inches of water

Built to withstand sun, weather, and chemicals of any pool or outdoor environment

Compatible with all pool types, including vinyl

Crafted of a high-quality, UV20 rated resin, color stabilized for up to 20,000 hours of direct sunlight

Easy set up via threaded plug system
Specifications & downloads
Designed for use in up to 9″ of water.
Weight empty: 34 lbs
Weight full: 144 lbs
Products shall be free from material defects, and shall not splinter, crack, chip, peel, or rot for two (2) years from the date of purchase for both commercial and residential use.
Always use a soft bristle brush or cloth when cleaning your in pool lounge chairs. 

For routine cleaning, just use water. 

For a deeper clean, remove the sun shelf chaise lounge chair from your pool and use a mild household cleaner and eraser sponge.

You can also remove calcium buildup on your in pool chaise lounge with a calcium removal product.
Ships within 3-5 Days White Ships within 5-7 Days Sandstone, Granite Grey, Cloud, Light Blue, Frost, Dark Blue Ships within 1-2 Weeks Tan, Teal, Lime Green, Mint, Coral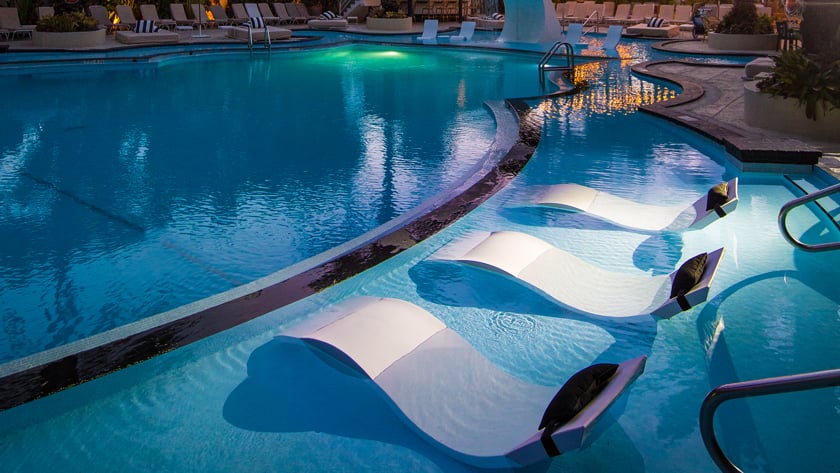 The Signature Collection is our trademark, in water furniture designed for use on your pool's tanning ledge, Baja shelf, or sun shelf. Our in pool chaise lounges are created for ultimate comfort and convenience, now your pool days will never be the same. These stylish pieces are made of high quality, UV20 rated resin, and marine grade fabrics, designed to withstand the sun, water and chemicals of any pool and outdoor environment. Our luxury pool shelf loungers are also available in a multitude of different colors so you can relax In Water, In Style.
In water, in style
See how our customers are living the #LedgeLife
Reviews